The Purpose of United Methodist Women
United Methodist Women shall be a community of women whose purpose is to know God and to experience freedom as whole persons through Jesus Christ; to develop a creative, supportive fellowship; and to expand concepts of mission through participation n the global ministries of the church.
The Living Vision of United Methodist Women
Turning faith, hope and love into action on behalf of women, children and youth around the world.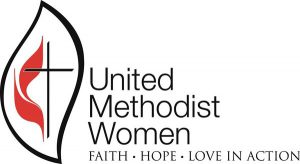 The United Methodist Women of P-FWUMC
The United Methodist Women of Providence-Fort Washington United Methodist Church is 5-star Unit with an active membership of 30 women. The Unit's Mission Giving is worldwide:
World's Children, Inc., Corvallis, OR – Founded in 1965 to support orphaned, disabled, impoverished children in developing countries, including shelter, health care, and education, working with children's homes in India, Guatemala, Philippines, Mexico, and Ethiopia.

The Strawbridge Shrine, New Windsor, MD – Known as the first home of Methodism in America, built in 1764 by Robert Strawbridge and his first "society".

Epworth House Mission Project, Washington, D. C. – An ongoing project of the United Methodist Women of the Baltimore-Washington Conference which supports female students from overseas while studying at the Wesley Theological Seminary.

Heifer International – Little Rock, AR – A charity working since 1944 to end hunger and poverty around the world by providing sustainable agriculture, providing livestock (cows, chickens, goats, bees, sheep, pigs) and training.

Wesley Theological Seminary, Washington, D. C. – The founding of Wesley Theological Seminary was in 1882 in Westminster, MD (originally called Westminster Theological Seminary).

Red Bird Mission – Beverly, KY – The mission has provided ministries to this isolated and rural region of the Appalachian Mountains since 1921. The need for education, health and wellness programs, community outreach, economic opportunity, and community housing is critical.

Asbury Foundation Benevolent Care Fund – Gaithersburg, MD – Support of Benevolent Care allows residents who outlive their financial resources to remain in their Asbury Community.

Board of Child Care Auxiliary – Baltimore, MD – Organized since 1953, the men and women of the auxiliary are the volunteer corp. One of their most important functions is education of the public about services offered.

Urban Ministry – House of Peace, 3rd Street Church of God, Washington, D. C. – Founded in 2010, a fellowship of Christians who offer services in which Providence-Fort Washington United Methodist Church participates in every third Sunday of the month. On the third Saturday of each month, simple meals are prepared and taken downtown for the 8:00 A. M. Sunday service.

Oxon Hill Food Pantry – Temple Hills, MD – Sponsored by the Interfaith Community Action Council, located at Our Savior's Lutheran Church. The pantry is glad to receive both food and monetary donations and is a 501 (c) (3) organization. This all-volunteer organization provides emergency food to families in need.

Maryland Crime Victims' Resource Center (MCVRC) – Upper Marlboro, MD, Baltimore City, and Washington, D. C., formerly the Stephanie Roper Foundation, ensures that victims of crime receive justice and are treated with dignity and compassion through victims' rights and services. Those services include victim services, crisis assistance, legal help, victim notification, financial help, social services, and national victim resources.

Rocking Readers - Providence-Fort Washington U. M. C. has partnered with Fort Washington Forest Elementary School to provide one-to-one reading experiences for kindergartner students. The program has proven highly successful and how special this individual time can mean to a child.

Imagine No Malaria – Through UMCOR, a humanitarian arm of the United Methodist Church. The Baltimore-Washington Conference asked each church to commit to Imagine No Malaria.

Freedom Hills Therapeutic Riding Program, - Port Deposit, MD – Since 1982 Freedom Hills has been bringing horses and people with disabilities together. No one is turned away because of finances. Riders include those with physical and/or emotional challenges, kids at risk, and military veterans who sometimes go on to participate in Special Olympics at the county and state level.

NothingButNets, Washington, D. C. – the United Methodist Church is a founding partner, one of many with the United Nations Foundation, of NothingButNets since 2006 and is supported by the Providence-Fort Washington United Methodist Women. Insecticide-treated, anti-malarial nets for $10.00 each, which cover two people, but in some cases, entire families sleep in the same bed to be protected.