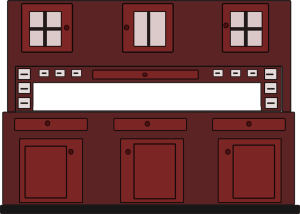 In the early years, Providence United Methodist Church maintained a strong outreach Food Pantry Ministry, under the watchful eyes of longtime members Billie and Lucy Shaddix. The Pantry provided emergency food to needy families in the Greater Fort Washington Community. When Providence and Fort Washington came together as one church family, it was decided to close the church pantry and join forces with the Oxon Hill Food Pantry. Harold (Hap) Harris and his wife Mary began collecting food at the church and delivering it to the Oxon Hill Food Pantry.

Today, this ministry is still going strong. The Oxon Hill Food Pantry was established 31 years ago and serves more than 6,000 people annually out of one room in the rear of Our Saviour's Lutheran Church in Temple Hills, Maryland. It is an emergency pantry open three times per week. The Pantry requires no referrals and serves Southern Prince George's County.
The heart of Christian ministry is Christ's ministry of outreaching love. Christian ministry is the expression of the mind and mission of Christ by a community of Christians that demonstrates a common life of gratitude and devotion, witness and service, celebration and discipleship. All Christians are called to this ministry of servanthood in the world to the glory of God and for human fulfillment (Taken from the Book of Discipline, 1996). This heart of Christian ministry is apparent in URBAN MINISTRY. On the third Sunday of every month at 7:30 a.m., a handful of P-FWUMC church members caravan to Third Street Church of God in Washington, DC. There, they meet up with fellow churchgoers from Fort Washington, Maryland's Spirit of Elijah Kingdom Church, where the collective group participates in worship service with homeless men and women. At the end of service, participants receive a bag lunch lovingly prepared by P-FWUMC and Spirit of Elijah. Through this dedicated outreach, men and women who have fallen on hard times are brought in close connection with the word of God. Their faith and trust in the Lord is a blessing and a reminder that we are loved, always and unconditionally.